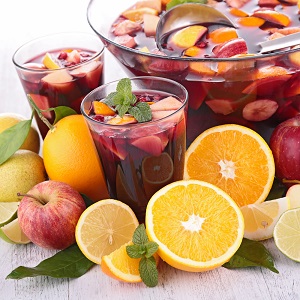 When the holidays arrive, you might want to try some alcoholic drinks to celebrate the occasion. However, when you are on the whole foods diet, it isn't as simple as just making any type of drink.
While Whole30 asks you not to drink any alcohol, you might continue with a whole foods diet after completing the first 30 days. It is at this point, when you can choose to occasionally drink alcohol, but still remain within the general dietary guidelines. Here are some holiday drinks that should still be fine while on the whole foods diet:
Blackberry Sparkler
The first type of holiday drink you can make for Christmas while on the whole foods diet is a blackberry sparkler. This is going to use champagne, so if you are actually doing Whole 30, it might not be allowed. Otherwise, it isn't going to use any ingredients you can't have on a whole foods or paleo diet.
For this type of drink, you will combine blackberries with water and some fresh herbs, such as mint or rosemary. You can also use any other types of berries you like. Some people also add sugar, but of course you want to leave that part out. Add this mixture to a glass of champagne.
Coconut Milk Egg Nog
This is a mock egg nog recipe since you are going to use coconut milk instead of regular dairy milk, which you should avoid when you are following the whole foods lifestyle. For this type of egg nog, start with light coconut milk, egg yolks, vanilla extract, and raw maple syrup. This is the main mixture you will use for your egg nog. You can then flavor it any way you like, such as adding seasonings like allspice, nutmeg, cloves, and cinnamon. If you want to add alcohol, try rum or bourbon.
Winter Sangria
Sangria is typically made with red wine, so like the other alcoholic drinks on this list, you need to decide if you are allowing it on your whole foods diet or not. For the most part, choosing a really high-quality organic red wine is the best option.
For a winter sangria combine your wine with juice from winter fruits, such as cranberries, raspberries, pears, and oranges. If you can find some pineapple, juicing chunks of pineapple is also excellent for this sangria. For a non-alcoholic version, you can use ginger ale instead, but find one without any sugar added.
Fruity Lime Spritzer
A spritzer is a type of fruity sparkling beverage, usually carbonated but not always. This can be made with alcohol or not. The main components include homemade cranberry juice you have made without any sugar added to it, lime that has been freshly squeezed, and some garnishes, including cranberries and lime wedges. You can add these ingredients to any sparkling water for the non-alcoholic version, or to champagne.