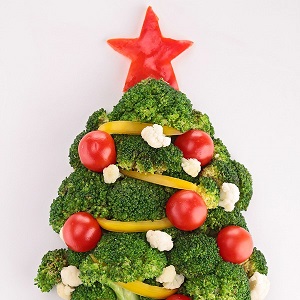 During the holidays, particularly when Christmas is on its way, you may be thinking about different snacks, treats, and appetizers you can have that are themed for the holiday, but are still considered whole foods. Using fruits and veggies as the main component is a really good way to stay on track. Here are some different Christmas-themed fruit and veggie snacks to try out.
Christmas Tree Veggie Platter
This is a super simple way to put together a veggie platter for Christmas or other holiday celebrations and also turn it into a fun and festive arrangement. Instead of simply placing veggies on a plate, arrange them into a Christmas tree shape.
You can do this with a large platter, and start with the broccoli since it is going to main the basic Christmas tree shape. You can now use sliced bell peppers to create a star at the top, preferably with the yellow ones. For other veggies, chop them up and use them as 'ornaments' for the Christmas tree. Continue reading →