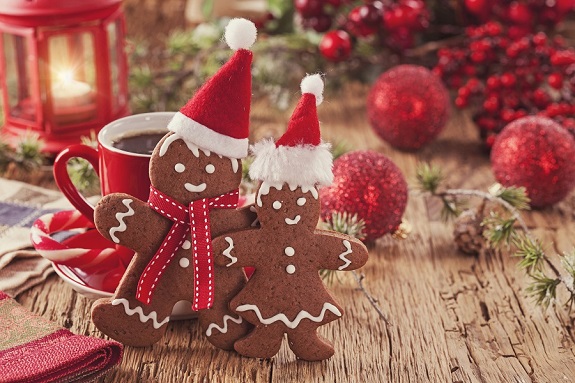 Gingerbread is the stuff holidays are made of. The smell just screams holidays. Plus, you can do so much with the forgiving dough from these gingerbread cookies.
You can make them any shape you want; you can use them to make a gingerbread house, or even as edible decorations for your tree. You can, of course, make this dough ahead and freeze for later use, or keep in the fridge for up to three days before use.
Ingredients
1/2 cup butter, softened
3/4 cup packed dark brown sugar
1/3 cup molasses
1 egg
2 tablespoons water
2-2/3 cups all-purpose flour
2 teaspoons ground ginger
1 teaspoon baking soda
1/2 teaspoon salt
1/2 teaspoon ground cinnamon
1/2 teaspoon nutmeg
1/2 teaspoon allspice
Directions
In a large bowl, add the butter and brown sugar. Use a mixer, set on medium speed, to cream the ingredients into a light, fluffy mixture.
Add the molasses, egg, and water. Mix until combined thoroughly.
In a small bowl, add the flour, ginger, baking soda, salt, cinnamon, nutmeg, and allspice.
Gradually add the flour mixture to the butter and brown sugar mixture. Blend until all ingredients are well combined and the dough is uniform throughout.
Divide the dough in half, placing each half into a small bowl. Cover each bowl with plastic wrap and refrigerate for about 30 minutes. When it is ready, the dough should be firm and easy to handle.
Preheat the oven to 350 degrees Fahrenheit and lightly grease two baking sheets, setting these aside for later use.
Lightly flour your work surface and add some flour into a shallow dish. The dish should be big enough to hold several cookie cutters that are about 4 inches on the longest side.
Place your cookie cutters in the dish and set the dish aside.
On your floured work surface, roll out each half of the chilled dough to be about 1/8 inch thick.
Use the floured cookie cutters to cut out the gingerbread shapes and place the shapes 2 inches apart on the baking sheets.
Bake the cookies about 10 minutes or until the centers are done and the edges are firm.
Remove the cookies from the oven and place them on wire racks to cool completely.
Reroll the dough scraps, continuing to cut out and bake the cookies until all of your dough is used.
Decoration Ideas
When people hear gingerbread cookies around the holidays, they tend to think gingerbread men. However, many other cookie shapes will bring holiday cheer to the table. Check your local baking and/or craft store to see what cookie cutter shapes are available. You should see snowflakes, hearts, stars, snowmen, trees, houses, candy cane, stockings, reindeer, Santa hats, mittens, sleighs, bells and even doves.
Once you choose your shapes, decorating them comes easy. You can flood your cookie top with royal icing. You can use a squirt bottle or Ziploc bag with the corner cut out to make more details and decorative designs. Cookie sprinkles, miniature candies, colored sugar, melted chocolate and even fruit leather are great to use when decorating cookies.
Many people expect to see some sort of icing decorating gingerbread men as well as other holiday-shaped gingerbread cookies. If you like the look of gingerbread icing but aren't up to dealing with royal icing, here's an easy substitute icing:
http://www.thekitchn.com/how-to-decorate-cookies-with-icing-the-easiest-simplest-method-cooking-lessons-from-the-kitchn-198240
Yield: About 2 dozen cookies
Adapted from: http://www.tasteofhome.com/recipes/gingerbread-men-cookies