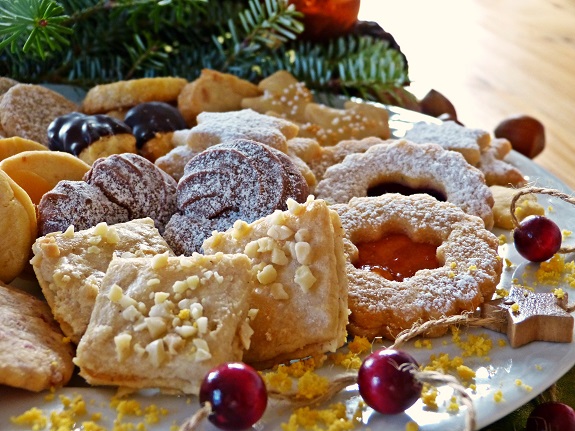 Shortbread brings back memories of holidays of old, but the nutty lemon flavor of these will bring something new. For everyone on your list and in your family who loves shortbread, these will be a winner that they'll beg for year after year.
Ingredients
1 1/4 cups all-purpose flour
2 tablespoons finely chopped pecans
3 tablespoons sugar
2 teaspoons finely shredded lemon peel
1/2 cup butter
Lemon sugar (optional – ingredient and instructions below)
Directions
Preheat the oven to 325 degrees Fahrenheit.
Chop the pecans and shred the lemon peel. Place in a medium mixing bowl. To this bowl, add the flour, 3 tablespoons sugar, and the lemon peel. Add the butter, cutting it in until the fine crumbs begin to cling together.
Knead the crumbly dough until it is smooth. Form into a ball.
Lightly flour the surface where you plan to work. Roll out the dough into a single layer that is about 1/2 inch thick.
Using cookie cutters that are about 1 1/2 inches but no larger than 3 inches wide, cut out your desired shapes.
On an ungreased cookie sheet, place your cookies 1 inch apart.
Sprinkle lemon sugar on cookie tops to decorate and to add an extra lemony flavor (optional).
Bake for about 18 minutes for small cookies or about 22 minutes for large cookies. Watch the cookies closely. When the edges of the cookies start to brown and the centers are set, the cookies should be ready.
Once out of the oven, transfer the hot cookies from the cookie sheet to a wire cooling rack.
Note: Although you can purchase lemon sugar, you may prefer to make your own so that you always have a supply on hand when it's needed.
Lemon Sugar Ingredients
2 cups granulated sugar
1-2 fresh lemons
Lemon Sugar Directions
In a medium mixing bowl, add 2 cups of sugar. Set aside.
Using a fine grater or zester, grate the yellow peel from the lemon into the mixing bowl with the sugar. Make sure that you only grate the yellow peel, not the white part or pith. For a stronger lemon flavor, add the zest of an additional lemon to the sugar and mix well.
Place the lemon sugar mixture in an airtight container. Allow the sugar to sit for several days, stirring occasionally to break up any lumps. As a rule of thumb, the longer you allow the mixture to sit before using it, the more lemony it tastes.
After using the lemon sugar for the first time, make any adjustments needed just by adding more sugar or more lemon zest according to your taste.
Yield: About 2 dozen cookies
Adapted from: http://www.bhg.com/recipe/cookies/lemon-pecan-shortbread-cookies/