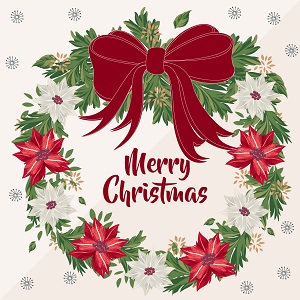 Want to decorate your home but don't have a lot of time, energy or money? Here are some quick and easy ways to create a festive mood.
1 – Grab a few candles, place them in the center of your table and light them. The twinkling adds instant ambiance. If you have a decorative plate, stand, or even a few branches to place underneath or around the candles it'll look even better.
2 – Holiday ornaments – Collect a few of your favorite solid-colored holiday ornaments and place them in a clear glass container. Grab ones with complimentary colors like silver and red, or collect ornaments that are all one color but varying sizes to add effect.
3 – Spruce up an old wreath by adding small ornaments to the boughs. Attach them with wire through the back of the wreath to ensure they stay in place.
4 – White Christmas lights – String white Christmas lights up a stairwell banister. Hang them around a doorway, around a mirror, or adorn a plant in your home with the small sparkling lights.
5 – String cranberries and/or popcorn and hang on your holiday tree with white lights for an old-fashioned holiday tree.
6 – Fill a glass bowl with holiday fruit. Pomegranates, oranges, and pears are in abundance during the holidays.
7 – Gather pine cones and string them for a decorative touch. Place them in a basket on your mantle or table, or add glitter or sparkly spray paint for a more festive look.
8 – Purchase a bag or two of cranberries. Place them in a clear glass bowl filled with water. Add a few small red votive candles and light them. The candles will float amongst the red berries. You can also fill a bowl with the red berries, skip the water, and position the candles amongst the berries.
9 – Display your holiday cards by hanging them over the fire place or around a doorway.
10 – Gather branches from your yard or the tree farm. Place them on the wall over your fireplace, create a wreath from the branches by weaving them together or use them as the foundation for a centerpiece.
11 – Gather candy canes both large and small in a tall vase or clear glass. Tie bows around the middle of the candy canes and display.
12 – Wrap mirrors and doors with wrapping paper. They'll look like giant gifts.
When you use your imagination, you can come up with tons of great ideas to decorate your home this holiday. Take a look around your home and yard. What do you already have that you can use to decorate? Keep it simple and have fun!