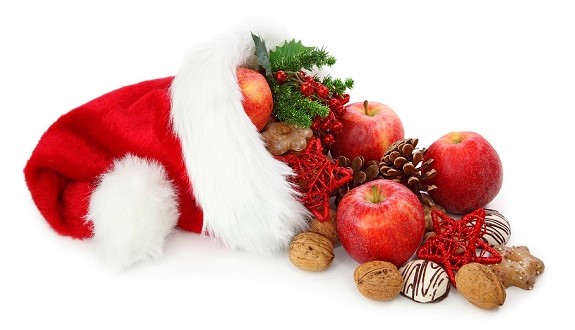 The best choices aren't made at the last moment. You're going to have a better chance of surviving the holidays, without gaining weight and having to get back on track, when you plan. Let's look at a few ideas that you can use.
Baked Apples
12 Baking Apples
Raisins
DaVinci Sugar-Free Vanilla Syrup
Cinnamon
Butter Flavor Spray
1 Cup Boiling Water
Preheat oven to 375 degrees Fahrenheit.
Core the apples, leaving bottom part intact.
Line apples up in a baking pan sprayed lightly with butter flavor spray. Stuff apples with raisins, pour a little of the syrup into the core with the raisins. It's okay if it spills over a bit.
Sprinkle with cinnamon.
Pour 1 cup of boiling water into the pan. Put into the oven 35 to 45 minutes. Baste with the juices from the pan and serve after sitting for ten minutes.
Trail Mix
Everyone needs an easy snack to grab that will taste great, stop hunger, and pleases everyone. Thankfully, it's super easy to make your own trail mix.
Purchase any of the ingredients you want in the trail mix. Buy low salt, low sugar, and low fat ingredients from the following list:
Whole Grains
Dried Fruit
Nuts & Seeds
Dark Chocolate
Candy pieces
Here's the trick.
Buy the best whole grain cereals you can, that don't have added fat, salt, and sugar.
Buy, or make your own, dried fruit that is sulfate free and oil free.
Choose nuts that are lower in fat and calories and higher in nutrition such as pistachios, almonds, cashews.
Choose a sweet element if you desire, but choose only dark chocolate, or fat-free candy and use a light hand with it. Alternatively, use more dried fruit.
Just mix it together in a large bowl and then put into a storage container. Easy peasy.
Fruit & Veggie Tray
This is the easiest snack to make and it pleases everyone. Just look at the dishes people bring to potlucks and the veggie trays go fast. This is super simple, just get the best looking fresh fruit and veggies that you can find at your local grocery. Cut into simple sticks and shapes for easy dipping and place on a serving tray.
Date Dip
Dates are wonderfully sweet, candy-like fruits that taste a lot like brown sugar. Choose the juiciest and freshest dates you can find locally, usually that will be Medjool dates. They're fat-free, but they are very high in sugar. Perfect for a healthy dip for fruit, especially apples.
Cover pitted dates with warm water and soak for about an hour.
Pour off half the water, then blend in a high-speed blender until smooth.
If you use a magic bullet you may need to stop and stir often. If you use a big blender like a Vitamix, ensure that you make enough to get a good blend going.
Refrigerate overnight for best results.
Cashew Dip
Cashews are not as high in fat as you might think.
In fact, almonds have far more fat than cashews. Cashews are packed with nutrition and great for you. But, when eating raw it's hard to stop. That's why nuts are dangerous for anyone who is trying to be healthy and can't just eat a handful.
Therefore, instead of eating them by themselves use them as part of your recipes, especially this lovely Cashew "Cheese" Dip for your veggies.
1 Cup Raw Cashews
1 Yellow or Red Bell Pepper, Roasted
1 TBS Lemon Juice
1 TBS Apple Cider Vinegar
1 Clove Garlic, Roasted
1 tsp Smoked Paprika
1 tsp Mustard (you can use yellow or spicy)
2 TBS Tahini
Soak raw cashews in hot water for 1 hour, (or overnight) drain.
Toss all ingredients into a high-speed blender or food processor and blend until smooth.
If needed, feel free to add a few drops water to get ingredients to combine better. Refrigerate overnight for best results.
Hint: You can use any hummus recipe and substitute cashews, or for an even lighter version, white northern beans, or edamame for a high protein dip. This is a great way to get different flavors of dip that are still healthy.