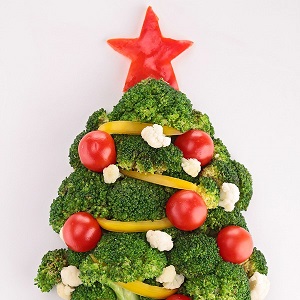 During the holidays, particularly when Christmas is on its way, you may be thinking about different snacks, treats, and appetizers you can have that are themed for the holiday, but are still considered whole foods. Using fruits and veggies as the main component is a really good way to stay on track. Here are some different Christmas-themed fruit and veggie snacks to try out.
Christmas Tree Veggie Platter
This is a super simple way to put together a veggie platter for Christmas or other holiday celebrations and also turn it into a fun and festive arrangement. Instead of simply placing veggies on a plate, arrange them into a Christmas tree shape.
You can do this with a large platter, and start with the broccoli since it is going to main the basic Christmas tree shape. You can now use sliced bell peppers to create a star at the top, preferably with the yellow ones. For other veggies, chop them up and use them as 'ornaments' for the Christmas tree.
Grinch Fruit Heads
Who doesn't love the Grinch? This popular Christmas character is really great for turning ordinary fruit into little Grinch heads, helping the kids to remain on the whole foods diet while also getting some fun Christmas spirit. These little Grinch heads just require using a green grape, adding a strawberry without the hull on top to create the Santa hat, then a slice of banana for the white trim of the hat. You can just stack them the best you can or use little tooth picks to hold them together on the platter.
Make Candy Canes
Another fun idea for fruits and veggies is to use a combination of white and red fruits and veggies to create small candy canes or one big one. Some white options include bananas (technically a light yellow, but close enough) and cauliflower. For the red part, you can slice up strawberries, cranberries or raspberries, or red bell peppers. Alternate the colors to create red and white candy canes.
Prepare Egg Snowmen
These don't just consist of fruits and veggies, but also use hard-boiled eggs as well. Most whole food lifestyles allow for these eggs, so they should be great for your snacks or appetizers. The snowmen are made with the hard-boiled eggs, using a whole one for the body, and a half of one for the head. You can then use slices of carrots for the nose and create carrot hats as well, then use either peppercorns or some small pieces of black olives for the mouth and eyes of the snowmen.