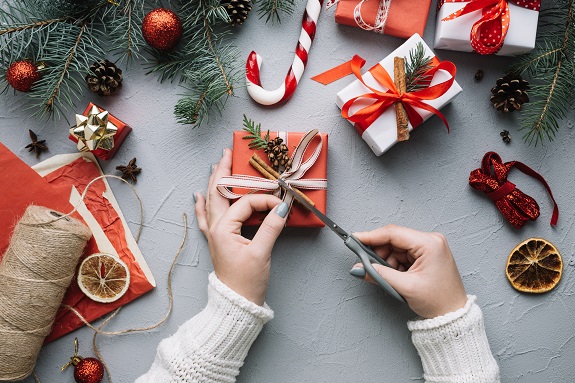 When you give someone a gift, you want it to be remembered. But how can you do that when the gift is something ordinary or practical? One way is to make the wrapping paper especially memorable.
Start by thinking about the gift recipient. How would you describe him or her in a single word? Fashionable, trendy, creative, traditional, practical? Is the recipient a child or an adult? What kind of emotional attachment do you have to the recipient?
Next, think about ways you can match the wrapping paper to that one-word description, keeping the recipient's age and relationship to you in mind.
For example, a recipient who is fashionable will probably like wrapping paper in this season's colors and patterns. If you're not certain what those colors are, flip through a copy of Vogue or some other fashion magazine for common colors and design details.
For instance, champagne, lemon, and burgundy are hot colors for Fall, and both fringe and shine are frequently integrated. You might also keep your gift very simply wrapped for these people in black, white, or an occasion-appropriate color, but decorate the package with a smart scarf tied in a bow.
Treat other single-word descriptions similarly. A person who loves tradition might love wrapping printed with Thomas Kincade designs. A person who is geekily obsessed about something – cars, Star Wars, gambling – will always love paper matching the obsession.
For creative friends, paper you've designed yourself, whether it's printed from your computer or hand-stamped on repurposed grocery bags, might be ideal. Practical friends will love gifts wrapped in something that can be used later, like cloth or a simple shopping bag.
Color can be very special as well for more than just fashion. Consider tradition; Christmas is red and green, Halloween is orange, Mardi Gras is green, purple, and gold. Your gift recipient might have a color he or she has made their own that would be appropriate for your wrapping.
For other occasions you can get creative, wrapping your gift in contrasting colors like orange and blue, or in shades of a single color. Keep it appropriate to the gift recipient: red for romance, vibrant kid-friendly colors for younger gift recipients; more sedate colors for your conservative mom or uncle.
Follow a few dos and don'ts as well. Never lock yourself into using just store-bought paper. You can have fun with making your own paper, or by using unique gift presentation ideas like baskets or clothing. For example, a back-to-school gift can be really special when presented in an inexpensive backpack or messenger bag.
Be fun and creative, and don't be afraid of the recipient disliking your gift wrap. Pay attention to your gift recipient's reactions from other years, as sometimes even obsessions can be overdone; if you're in doubt, use a different wrapping theme. Finally, do what you can to match the wrapping to the gift. For example, the scarf-as-bow above should match clothing or accessories in the gift itself.