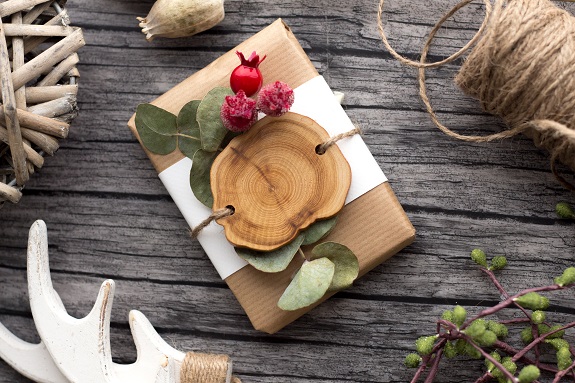 Have you heard of green gifting? If you're crafty and budget conscious, chances are you have been green gifting without the intention of doing so! Green gifting is the practice of using recycled or reused goods to wrap gifts.
Gift wrap, and accessories added to your packages, are typically thrown out once the gift is opened, putting a tremendous amount of material into landfills. In fact, around the holidays, gift wraps and baubles account for an almost 25 percent rise in trash volume.
Here are some fabulous ways to green up your gift packages any time of year:
Potato Sacks
Remember those burlap bags we used to use for sack races when we were kids? They make great wraps for large gifts. Sweaters, blankets and even quilts can be folded nicely and tucked into a vintage potato sack. Tie with a bit of raffia or twine and you've got a wonderfully unique package.
Reusable Bags
Canvas shopping totes are perfect for holding gifts and can be useful as well! Leave them plain or decorate them with fabric paint, patches or other embellishments to give them a personal touch.
Containers
If the gift you're giving lends itself to a certain theme, consider a container rather than gift wrap. For instance, if you are giving gardening supplies to your favorite aunt, bundle them into a watering can. Attending a baby shower? Wrap your gifts in a baby blanket! Making the "wrap" a part of the gift is one of the easiest ways to go green.
Recycled Paper
If you can't break away from the traditional look of a beautifully wrapped package, use recycled paper. And don't forget the tape! Petroleum based tape can't be recycled so fore go it in lieu of twine or yarn; either can be reused by your recipient.
Reuse Paper You Have
If you look around the house, chances are you have a ton of papers you can use in place of gift wrap. Old maps, comics, newspaper, brown bags or even brown mailing paper; these all work very well! Dress up your package with twigs, berries, shells or beautiful leaves found in your backyard or on a neighborhood walk.
Tree-less Paper
There are several options in tree-less papers available at your local big box store. Look for papers made with banana fiber or recycled papers printed with soy inks.
Green gifting is simply better for the environment. The trend also lends itself to great creativity on your part! Whether you choose to make your wrap a part of the gift or use papers that can be recycled rather than thrown away, you'll be reducing your carbon footprint one gift at a time.