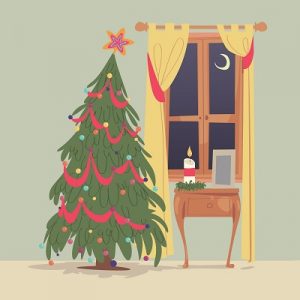 Your Christmas tree is a huge part of what makes Christmas so special and memorable. Unfortunately, it can also be a huge part of your Christmas carbon footprint! Here are a few tips for making sure you choose the most environmentally friendly Christmas tree available.
Artificial Christmas Trees
Artificial Christmas trees aren't the most environmentally friendly Christmas choice, due to the energy that goes into their production and the materials they use. However, if you choose wisely, an artificial tree can be something you'll use for years and years to come – reducing the impact it will have.
If you choose to go the artificial route then make sure you buy a quality tree that will last. You'll also need to have a place to store it in between Christmases. If you really want to reduce the impact your tree has, try finding a second-hand reusable artificial tree for sale.
Cut Real Trees
Cut trees are one of the most common types of Christmas tree, and are very traditional. Picking your own tree is always fun and, once you have it at home, it'll give off a wonderful smell! Not to mention the fact that you can choose the exact kind of tree you want.
Unfortunately, this isn't a great choice for the environment. Cut trees cannot be used year after year, and they will eventually start to die and drop needles off in your home!
Living Trees
A far more environmentally friendly Christmas tree choice would be to choose live trees that can be planted outside once the holidays are over. This is far less wasteful than buying a cut tree, as it keeps on growing even after the holidays. There are some drawbacks, though, such as the fact that you'll need to hide the roots in a suitable container while you've got it inside, and it'll cost more. And you'll have to be careful that your home isn't too warm for the tree to live healthily!
How to Recycle Old Christmas Trees
If you still want to buy a cut Christmas tree then you can at least reduce the negative impact it has by recycling it once the holidays are finished. For example, you could use the tree for projects in your home that require wood, or you can turn the tree into mulch using a local Christmas tree recycling service.
Choosing an environmentally friendly Christmas really is a big decision, and will take some advanced thought. Weigh up the pros and cons and do the best you can in your situation to help minimize the environmental impact of the tree you choose.